Published on Wednesday, 28 September 2016 11:20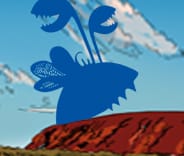 C'est officiel, la deuxième franchise Block'Out en Océanie se profile !! Et c'est dans la superbe, vivante et iconique ville australienne de Sydney que ça se passe !!
Après plus de 6 mois de travail acharné avec Vavou, notre sur-motivée première B'O Sister, s'il vous plait, l'aventure Block'Out Sydney débute !
Si vous fréquentez B'O3 depuis ses débuts vous avez surement déjà croisé la brillante et pétillante* Vavou sur les tapis ou au bar. (*comprenez hyper énergétique et bien portée sur la bonne humeur et les grands sourires, mais aussi joyeuse adepte des petites bulles)
Avec une fine équipe d'habitués, elle a vite adopté B'O3 comme son QG et pleinement contribué à l'ambiance de Block'Out dès son arrivée. En pleine progression sportive elle a cependant décidé de s'envoler vers d'autres horizons, et c'est à 17 000km du 91 qu'elle se lance un nouveau défi l'an passé, L'Australie.
Sa personnalité extravertie et son relationnel sans faille l'amènent à rencontrer une grande partie de la communauté locale de grimpeurs, et à découvrir des spots d'escalade majeurs, en plein développement.
Forte de ses expériences de gestion de projet et de conseil, elle explore rapidement des possibilités entrepreneuriales dans un Sydney en ébullition totale. En quête d'un projet planant et challengeant, c'est vers l'équipe de Block'Out Auckland qu'elle se tourne pour partager quelques conseils, et faire germer ensemble l'idée d'une plante grimpante et carnivore dans sa ville.
Complètement conquise par le concept depuis sa découverte de B'O3, c'est la qualité de grimpe, le restau-bar et l'atmosphère de B'O qui lui manquent fortement à Sydney. D'autant plus que l'envie de partager ce lieu de vie avec tout son réseau de grimpeurs initiés et de novices sur place se fait dévorante !
Vous l'aurez compris, avec Vavou, l'objectif est d'accélérer l'invasion Block'Out au bout du monde et de proposer notre concept de salles d'escalade - restaurant sur l'Australie dès la fin 2017. Si vous souhaitez la rencontrer, pas de temps à perdre car elle est de retour en France pour débuter sa formation pendant quelques semaines en Octobre, puis à nouveau en Janvier prochain après un retour à Sydney en fin d'année.
Pour toujours plus d'info sur B'O Sydney c'est ici ! Et pour les curieux des projets B'O Océanie c'est par là.
Block'Out Sydney! 2nd step in Oceania, we land in Australia this time
It's finally official, the second Block'Out franchise in Oceania is taking shape!! The vibrant and iconic city of Sydney is our newest amazing setting!!
After over 6 months of hard work with Vavou, our highly motivated and first Block'Out Sister, the Block'Out Sydney adventure begins!
If you've ever been to Block'Out 3 during its first opening months, you most likely already met the brilliant and bubbly* Vavou on the boulder mats or by the bar. (*as in highly energetic, smiley and full of life, but also as a fan of sparkling wine) 
With a cheerful team of regulars, she quickly made Block'Out 3 her Headquarters, and relentlessly contributed to the Block'Out spirit with positive vibes. While climbing stronger than ever, she decided to fly off in the sunset towards new horizons: she landed 17,000km from home, in Australia, with many challenges in mind.
Her extroverted personality and exceptional interpersonal skills helped Vavou to swiftly meet a wide range of the local climbing community and discovering beautiful major climbing crags.
Vavou's background in project management and consulting, added to Sydney being such an effervescent and dynamic city, carried her towards entrepreneurial shores. In her quest for a challenging and inspiring project, she turned to the Block'Out Auckland team to share some advice. Together we grew the idea of bringing the Block'out climbing & carnivorous plant to life in her adopted city.
The Block'out concept won her heart since she discovered Block'Out 3, and in Sydney she started missing the world-class climbing facility, the restaurant, and especially the Block'Out atmosphere. Moreover, her strong will to share such a place to live and experience with all her local network of friends, climbers, and beginners started to take over. She logically decided to take action and create it herself, adapting the concept with her personality and the DNA of Aussies!
You get it, with Vavou the objective is to share a new standard of awesome & speed up the Block'Out expansion on this side of the world, promptly bringing our concept of Bouldering gym – Restaurant to Australia as soon as late 2017.
If you wish to meet her, no time to waste: she's back in France to start training for a few weeks in October and will be back later on in January after a trip back to Sydney at the end of the year.
You want more info on Block'Out Sydney? Check right here! As for the other Block'Out Oceania project it's over there!