The Block'Out concept and culture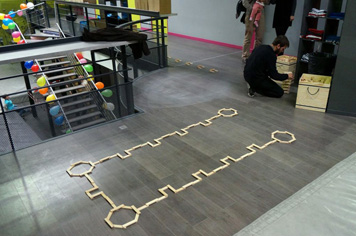 The Block'Out adventure began in 2008 when two friends, Emmanuel Charruau and Arnaud Pioger, became associates. As climbing enthusiasts who loved the Forest of Fontainebleau, they decided to try to fill a void in the Paris region:
– By proposing an indoor climbing facility that could cater both to beginners and experienced climbers;
– By proposing a lively, relaxed and friendly atmosphere where users can mingle and create true bonds.
To meet this dual objective, the founders of Block'Out decided to create an unusual space combining both bouldering (as found at Fontainebleau, without ropes and harnesses, which they consider a style of climbing that is more convivial and better suited to urban lifestyles) and a real restaurant/bar in which climbers could share their exploits or relax at the end of a session.
An important part of the concept is that non-climbers are also welcome and can enjoy varied food in a pleasant, friendly atmosphere while watching the climbers.
Block'Out Cergy-Pontoise served as the laboratory for this idea and proved successful, in a region where climbing had, until then, been almost absent.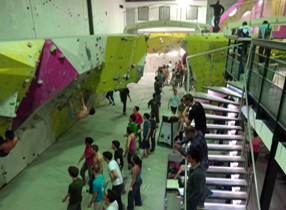 Wishing to continue its growth and to fulfil the expectations of Parisian climbers for whom a visit to Cergy was something of an epic voyage, Block'Out opened a new facility in Saint Ouen, on the northern edge of Paris, in September 2012 and another in Lisses, about 25km south of Paris in August 2014.
Our ever-growing experience has ensured that the Block'Out concept and spirit is now thriving. More and more people are loyal to us, justifying the energy spent on satisfying our customers in terms of the quality of the climbing we offer, the quality of our restaurant and the quality of our service. In 2016-17 we hope to extend the network with the opening of our next two climbing facility-restaurants in Paris-Bercy and Saint-Quentin-en-Yvelines-Versailles.
In the French regions, given that our business is above all one of proximity and human relations, we have chosen to continue our growth through a franchise system in which we accompany our future franchisees by sharing the values and know-how of our brand.
Indeed, it is this love of a job well done that has made Block'Out the leader of the French climbing gym market.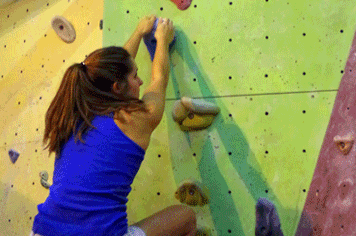 Enregistrer
Enregistrer
Enregistrer
Enregistrer
Enregistrer